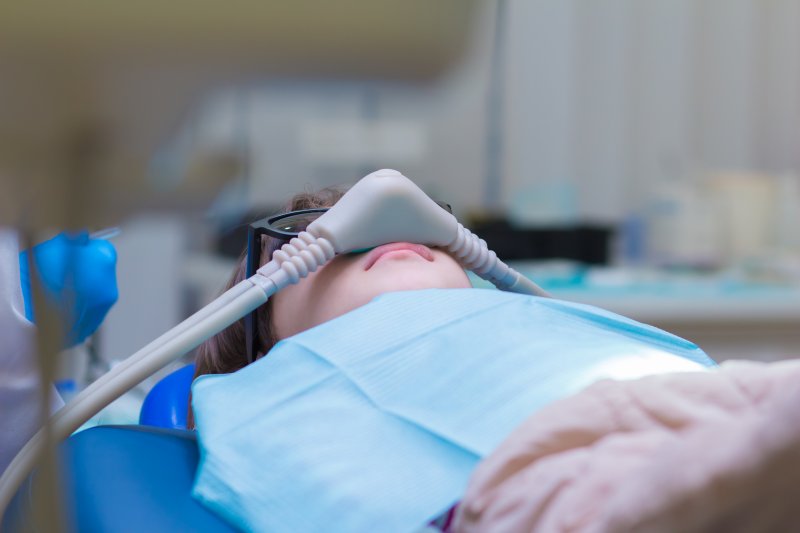 A common misconception is that sedation dentistry solely exists to alleviate dental anxiety, but it serves other purposes as well. While offering anxiety relief is one major function of sedation dentistry, its primary goal is to help minimize patient discomfort regardless of any phobias. If you're looking to remain calm and relaxed during your dental procedures, here's how you can benefit from sedation dentistry.
What is Sedation Dentistry?
Sedation dentistry is a group of services and medications that help you relax during dental appointments for any number of reasons. The goal is to reduce patient stress, discomfort, and pain. From a simple teeth cleaning to an invasive dental procedure, people with all different dental needs can benefit from sedation dentistry.
There are 3 types of sedation: nitrous oxide (laughing gas), oral conscious sedation, and intravenous (IV) sedation.
Nitrous Oxide
Laughing gas is inhaled through a nasal mask, allowing patients to experience relaxation and reduced sensitivity. The dose can easily be adjusted to maintain your comfort throughout your appointment. The sedative effects of nitrous oxide wear off in as little as five minutes, meaning minimal interruption to your day.
Oral Conscious Sedation
This method of sedation is ingested as a prescribed oral medication at a predetermined time so that you will be relaxed when you're receiving treatment. It has longer-lasting effects than nitrous oxide, so you will need a ride home from the office!
IV Sedation
IV sedation is administered directly to your bloodstream and combines the deep sedative effects of oral conscious sedation with the instant dosage adjustment of nitrous oxide.
How Can Sedation Dentistry Benefit You?
Many dentists use sedation dentistry to benefit patients beyond managing anxiety. Of course, sedation can offer pain and anxiety relief, but it can help you in other ways as well.
Sedation is often used in pediatric dental care or more invasive procedures to induce anterograde amnesia so the mind cannot create any new memories of any discomfort or pain.
A strong gag reflex can cause spasms that interrupt dental treatment. However, with the power of sedation dentistry, your dentist can stop your gag reflex and avoid any damage. In a similar vein, many dentists use sedation so they can focus on procedures, working faster and more efficiently.
Going to the dentist doesn't have to be a struggle. Sedation dentistry can help you feel more comfortable and relaxed, and soon your appointment will be over!
About the Author
Dr. John H. Upton, Jr. has offered the Glendale community comprehensive, high-quality dental services for over 35 years. His team at Arrowhead Dentistry makes your comfort their priority. If you're interested in learning more about sedation dentistry, contact Dr. Upton through his website or by phone at (623) 878-6333.