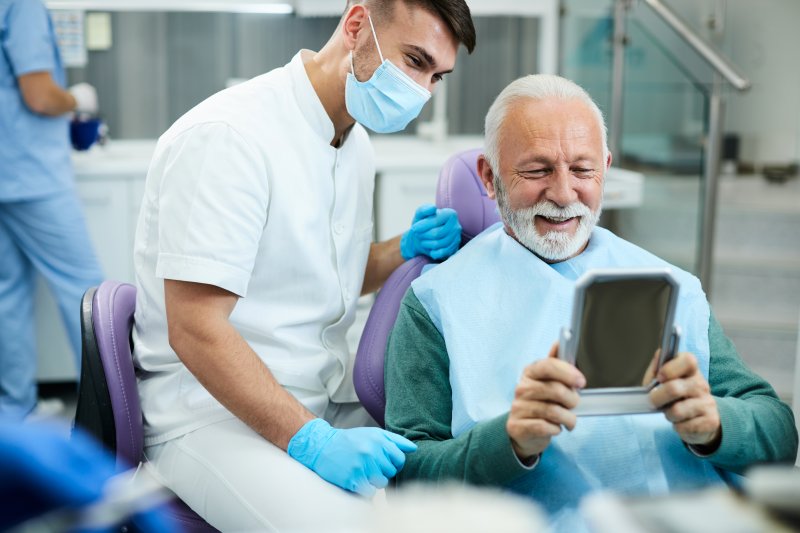 When you enter your twilight years, you start to get too old for certain things. For instance, you can't exercise too vigorously, bounce back from junk food, or drive heavy machinery. That being the case, you might think there's a natural age limit for cosmetic dentistry too. However, the truth is that there isn't one! Whether you're 35 or 95, you could qualify for services that help your smile look better. To prove it, your local cosmetic dentist is here with evidence. Read on to learn why and how seniors can benefit from cosmetic dental treatments.
You're Never "Too Old" for Cosmetic Dentistry
Most patients can get cosmetic dental work even when elderly. Successful treatment, after all, has less to do with age and more to do with oral health. So long as your mouth is strong enough, you can get a variety of cosmetic procedures.
That said, older patients are likely to have structural dental problems alongside aesthetic issues. Given that fact, your cosmetic dentist may need to treat the former before fixing the latter.
Cosmetic Options for Seniors
There are several cosmetic dental services a senior could benefit from. The most common ones, though, include the following:
Cosmetic Dental Bonding
Dental bonding might work for you if you're looking for a quick and cheap option. It uses tooth-colored resin to hide minor flaws like small stains, chips, cracks, etc. Applied well, the treatment's putty is indistinguishable from enamel.
In general, the bonding procedure only takes an hour or so. Still, remember that its results only last a few years.
Metal-Free Restorations
Depending on your age, you might know about gold and silver restorations. Well, most dentists today offer metal-free ones instead.
Dentists use Emax, porcelain, and zirconia for non-metal crowns and fillings. Due to looking lifelike and natural, such materials let restorations blend in with surrounding teeth.
Porcelain Veneers
If you've lived a long time, your teeth may suffer from several smile flaws. In that case, you should seriously consider porcelain veneers. These shells can cover various dental imperfections — chips, cracks, stains, and even misalignment. Plus, their porcelain material ensures the result matches your enamel.
Before committing to veneers, keep in mind that they're irreversible. Your dentist has to remove some enamel for placement, so you'll always need the prosthetics in the future.
As you can see, a cosmetic dentist can help you no matter your age. Therefore, go ahead and see one for the procedures listed above!
About the Practice
Arrowhead Dentistry is based in Glendale, AZ. As led by Dr. John Upton, Jr., our practice emphasizes trustworthy care that truly improves your oral health. To that end, we perform a wide range of preventive, cosmetic, and restorative treatments, not to mention emergency procedures. The office is also a certified provider of Invisalign clear aligners. For more information or to book a visit, you can reach us on our website or by phone at (623)-878-6333.